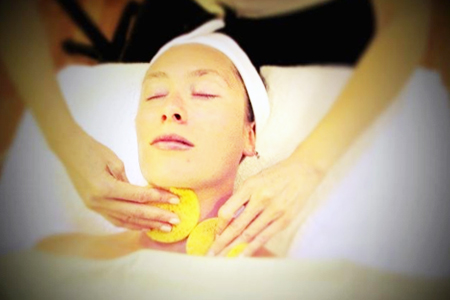 Choose a scent from Victoria's Lavender upon arrival.
Natural Exfoliate $95
A sugar glow is one of the most popular body treatments at Aqua Wellness Day Spa. Sugar is combined with aromatic essential oils and nourishing oils which help to exfoliate dead skin cells and allow better hydration. Treatment is suitable for those with poor blood circulation. It's also recommended for those following detoxification programs.
Body Wrap $165
Choose whether you would like to hydrate or detox following a full body sugar scrub. You will then be wrapped in a warm cocoon to allow the product to soak deeper into the epidermis.
The detox treatment uses an Aztec Secret Indian Healing Clay 
to purify the complexion and refresh tired skin. 
For the hydration treatment we use a mixture of tamanu whipped shea butter and coconut oil to deeply moisturize leaving you with silky smooth skin.
Hibiscus & Honeysuckle Hair and Scalp Restoration Treatment $30
Add On (Only For Pacific Grove)
Hibiscus & Honeysuckle Treatment is a supercharged restorative treatment that delivers a potent cocktail of essential nutrients for hair and scalp. Pro-Vitamin B5 increases the strength of the hair shaft and prevents damage caused by overheating as it tames split ends. Wheat protein works overtime to boost body while organic hibiscus extract restores silkiness to all hair types. Finally, a blend of organic shea butter, real honey and macadamia nut oil feed the hair and lock in moisture…sexy, shiny, beautifully soft hair is within your reach. One can only imagine the strength needed to pull off a stunt like the famed Rapunzel. Though a application of our Hibiscus & Honeysuckle Hair Restoration Treatment may not immediately transform you into a fairy tale heroine, it is guaranteed to leave your hair more lustrous, silky and thoroughly nourished. Enchanted castle and handsome prince sold separately.
Eminence is a handmade organic skin care line from Hungary, which is a leader within the professional skin care industry. It was created over 50 years ago in a small village where there were generations of knowledge for medicinal uses of plants. Hand-farmed using only natural fertilizers and insect repellants and handmade without any harsh chemicals or preservatives, Eminence offers a pure and results-oriented collection of product that has something for everyone. Eminence utilizes the power of probiotics, potent herbs, fruits, and vegetables with its plant-based stem cells, enzymes, AHAs, BHAs, and natural but highly effective alternatives to retinol and hydroquinone.
The Mission of Victoria's Lavender, Luxury Lavender Products is to provide pure and natural ingredients in quality products that are beneficial to the body and soothing to the soul. We work hard at creating lavender products that are innovative, high in quality as well as attractive.
Fresh off the runways of fashion week. As seen in Allure, Marie Clair, Town & Country, Redbook, Vogue, Bazaar, Instyle, W and Glamour.
Seven years ago, we revolutionized the way to prepare vital and fresh water at home. Following age-old traditions, we created gemstone vials to hygienically inspirit drinking water. Our vision now and then is to provide you with homemade, natural gemwater like fresh from the spring!
VitaJuwel gem vials are made from lead-free glass and hand-picked gems. We offer several different gem blends, tested by naturopaths and based on the insights of modern crystal healing. Their scientifically proven efficiency make them an essential accessory in health-seeking households worldwide.
All of our products are designed with devotion in the German alpine uplands, tested by friends all over the world and traditionally hand-crafted in a patented, artisanal method by master glassblowers in Bohemia.